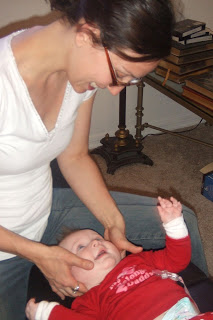 Obese Americans Outnumber the Overweight
The number of obese American adults now outweighs the overweight, according to the federal government National Center for Health Statistics. More than 35% are obese and 32.7% are overweight. Jay Leno teased, "If 67% are overweight, doesn't that make them average!" Unfortunately, obesity is burden for so many. Did you know that our patients have lost about 400 pounds since August!!! We have 2 main nutritional paths for patients- our Medifast meal replacement program and an individualized one-on-one nutritional counseling program with Dr. Kuty. You don't even have to be local to sign up with our Medifast plan! Whatever your needs, don't wait start your path to health today, call us at 480-945-7800 for more information.
Pediatric Chiropractic Care
You may have seen the positive article in USA Today about the increased use of chiropractic for children. Pediatric chiropractic care is about helping keep kids healthy. At Kuty Chiropractic we see kids to help with ear infections, colic, and digestive problems, as well as, when they are sick or have had injuries. Help your kids with chiropractic care!
D3 for Bone Health
With the shine shining so brightly in Arizona you might think we get enough Vitamin D but, as the heat rises people tend to stay indoors. Low Vitamin D has been linked to heart disease, high blood pressure, most cancers, diabetes, multiple sclerosis, autism, osteoporosis, autoimmune diseases, and frequent infections, cold and flu. Low Vit D3 also promotes the expression of chronic pain, bone pain, joint and muscle pain, and fibromyalgia. D3 can be supplemented without increased risk of skin cancer with as little as one drop under the tongue a day. A 6 month supply is less than $20 at Kuty Chiropractic! Give your body a little internal sunshine, stop by at pick up some D3!
Dr. Jolene Kuty
Kuty Chiropractic
480-945-7800
7555 E. Osborn Rd. Ste 102
Scottsdale, AZ 85257
Your Scottsdale, Tempe, Mesa, Phoenix, Paradise Valley Chiropractic Center