Kuty Chiropractic
1. E-NEWS ALERT: Mercury contamination!
2. Sleep Better Naturally Lecture
3. A Quiz: "Which is Safe?"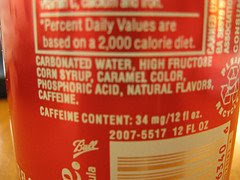 1. MERCURY in food!
A new report by the nonprofit Institute for Agriculture and Trade policy shows that some food with high fructose corn syrup contains mercury. There was detectable mercury in 17 of the 55 sampled foods, 31%. These were common items at your grocery- Quaker Oatmeal to Go bars, Jack Daniel's Barbecue Sauce, Hershey's Chocolate Syrup, Nutri-Grain Strawberry Cereal Bars, Manwich Gold Sloppy Joe, Hunt's Tomato Ketchup, Smucker's Strawberry Jelly, Yoplait Strawberry Yogurt, and the list goes on.
The report doesn't prove the mercury came from the high fructose corn syrup but that's most likely. Mercury can be used to make caustic soda, used to made the high fructose corn syrup. The Corn Refiners Association says that's outdated technology and the study researcher, Wallinga, says 90% of U.S. made is mercury free but, "the problem is that we don't actually know where our companies are buying their high fructose corn syrup from… it's a global industry."
At Kuty Chiropractic we recommend to decrease all packaged foods and eat naturally. There's no high fructose corn syrup in oranges!
Source: WebMD, Medscape, Environmental Health Jan.09
ZZZZZZZs
2. Sleep Better Naturally
How can you catch a good night's zzzzz's without medication? How can you prevent night pains? Have trouble falling or staying asleep? Don't miss this tell all presentation. Wednesday, February 25th at Sunflower Market in Tempe (Southern & McClintock) at 7pm. RSVP to 480-945-7800.
3.Which is the most safe?
Rate these items by their safety, giving the safest a "1" and the most dangerous a "5." The answers are listed at kutychiropractic.blogspot.com, click on "answers."
Commercial Airplane, Lightening Storm, Bathtub, Aspirin, Chiropractic Adjustment
Dr. Jolene Kuty
Kuty Chiropractic
kutychiropractic.com
480-945-7800